10G-EPON vs. XGS-PON: Are They Really All That Different?
The U.S. government is investing billions of dollars in broadband infrastructure. That funding will predominately be used to deploy fiber-to-the-premises (FTTP) networks using passive optical network (PON) technology. Most U.S. broadband providers are focused on deploying a 10G variant of PON technology, and two types are widely available in the market today: 10G-EPON and XGS-PON. The similarities between these two solutions far outnumber the differences. Most importantly, both technologies support the same peak capacities in the upstream and downstream, and both are equally capable of supporting symmetrical, multi-gigabit services to the household or business.
A Little PON Technology History
The history of PON reaches back to British Telecom research in the 1980s. The first PON standard, APON, was published in 1996 by the ITU-T. The specification for Gigabit PON (GPON) was published in 2003 and defines a PON that operates 2.5 Gbps downstream and 1.25 Gbps upstream. Following closely, the IEEE published its first PON standard, 1G-EPON, in 2004. This standard operates at 1 Gbps downstream and 1 Gbps upstream and was the most widely deployed PON standard until the mid-2010s.
In 2010, the IEEE became the first to publish a 10G PON standard, officially named 10G-EPON, that operates at 10 Gbps downstream and 10 Gbps upstream. Network operators began deploying 10G-EPON as early as 2012, and it is still being widely deployed today. In 2016, six years after the 10G-EPON standard was published, the ITU-T published XGS-PON, which is also capable of symmetrical 10 Gbps operation. Operators that aligned with ITU-T began deploying XGS-PON in approximately 2018.
Digging Into the Details
PON, including 10G-EPON and XGS-PON, is a system for transmitting data over a shared fiber-optic point-to-multipoint network. At the root of this network is the Optical Line Terminal (OLT). From the OLT, a single fiber extends to a splitter, which joins this single fiber to multiple fibers that extend toward the end-user. Splitters can be cascaded to create an optical network that ultimately connects to a network terminal at the customer premises. This terminal is the Optical Network Unit (ONU). This device might also be referred to as an Optical Network Terminal (ONT), which is functionally the same as an ONU.
In both 10G-EPON and XGS-PON, a scheme called Time Division Multiple Access (TDMA) is used to share the fiber's upstream resource. In this scheme, each user (the ONU at the user's premises) is granted a share of time during which they are allowed to transmit data. At all other times, the user is "silent" while other users transmit data.
The downstream resource has only one transmitter: the OLT. By nature of the optical splitting topology, all users receive all data that is transmitted downstream. Each ONU is expected to ignore data that is not addressed to it, but both 10G-EPON and XGS-PON take the extra step of encrypting traffic to prevent nefarious actors from accessing other users' data.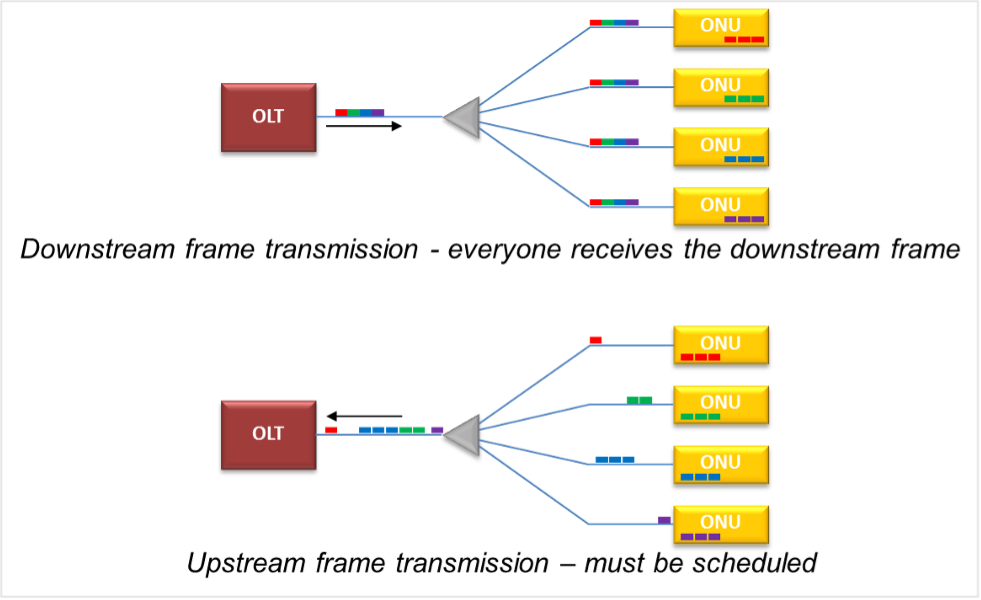 Frame Transmission by Traffic Direction
PON Similarities
Both 10G-EPON and XGS-PON use error correction schemes to achieve a wide split ratio and 10 Gbps transmission over long distances (approximately 20km). Error correction works by sending additional data, called parity, on top of the user's data as it is being transmitted. This extra data is one form of overhead that consumes a portion of the total available capacity of the PON. Overhead results in a reduction of the usable capacity for both 10G-EPON and XGS-PON. In the end, the usable capacity for 10G-EPON and XGS-PON is approximately 8.8 Gbps.
Both standards require a minimum split ratio that supports 64 users (1:64). Split ratio can be difficult to understand because it's a value that is determined by the operator's network design criteria and the specific optical transceivers chosen by the operator. Some will point out that XGS-PON requires a minimum 1:256 split ratio, but this is only a recommendation and is not a requirement. Neither 10G-EPON nor XGS-PON places a maximum on the split ratio, and both standards define multiple options for the optical transceiver performance. XGS-PON and 10G-EPON are both very flexible and the operator is free to design the network to fit its specific needs including split ratios that exceed 1:64.
The native frame format used by 10G-EPON is Ethernet, which is used to carry the Internet Protocol in the vast majority of networks. It seems obvious that 10G-EPON would be capable of carrying user data in Ethernet frames, and indeed it is. Although XGS-PON's native framing is not Ethernet, XGS-PON is equally capable of carrying users' data in Ethernet frames and does so with a trivial amount of additional overhead compared with 10G-EPON.
Considering all these similarities, we might ask, "What's the difference between 10G-EPON and XGS-PON?" For an engineer, it is easy to dig in and find that there are many differences between these two PON standards. However, in the end, an operator chooses one over the other based on two major factors: the network's legacy and support for the standard in the backend systems.
PON isn't a new technology; it has been deployed around the globe for over 20 years. The technology has a legacy of poor interoperability over that time, starting with ITU-T PON. Poor interoperability means that an ONU from one vendor will not function correctly when connected to an OLT from another vendor, so both must be sourced from the same vendor. Similarly, systems based on ITU-T PON typically have vendor-specific interfaces to the operator's network management and provisioning systems. Industry bodies like the Broadband Forum are taking steps to improve interoperability, but this history of poor interoperability is difficult to shake off. If an operator has an existing PON network based on ITU-T standards, then that operator is most likely to adopt XGS-PON.
The DOCSIS® Provisioning of EPON (DPoE) solution from CableLabs is a series of specifications that define interoperability between OLT and ONU and interoperability with cable operators' network management and provisioning systems. Further, CableLabs created a DPoE certification program that makes sure ONUs and OLTs conform to the specifications and are interoperable among vendors. These factors are the reason some cable operators still prefer 10G-EPON over XGS-PON.
| | | |
| --- | --- | --- |
| Factor  | XGS-PON  | 10G-EPON  |
| History  | Ratified in 2016  | Ratified in 2010  |
| Maximum Distance  | 20km  | 20km  |
| Split Ratio  | At least 1:64  | At least 1:64  |
| Usable Data Rate  | Approx. 8.8 Gbps  | Approx. 8.8 Gbps  |
| OLT/ONU Interoperability  | Low but improving  | High  |
| Transports Ethernet and IP  | Yes  | Yes  |
Comparison of XGS-PON vs. 10G-EPON
Future-Proof PON Technology
The similarities between 10G-EPON and XGS-PON far outnumber the differences. Both technologies support the same usable capacity in the upstream and downstream and therefore are equally capable of supporting symmetrical, multi-gigabit services to the household or business. Market data demonstrates that the cost of 10G-EPON and XGS-PON devices is comparable. This is the case because 10G-EPON and XGS-PON ONUs are built using the same underlying hardware components, including identical silicon, and the software determines the mode of operation.
Today, the majority of PON deployments are of the 10 Gbps variety — either 10G-EPON or XGS-PON. Marketeers are trying to cast one or the other of these as better, but in reality, these two technologies are equal in their ability to meet and exceed broadband service requirements today and well into the future.
Building a Smarter 5G Future Through Open RAN Development
Technological advancements are paving the way for flexible, cost-efficient and scalable solutions that will transform our digital lives. For the mobile industry, this means helping revolutionize the telecommunications landscape by harnessing the capabilities of 5G to redefine connectivity. This fifth generation of cellular wireless network technology is delivering faster speeds and will soon deliver lower latency — enabling powerful, cutting-edge applications and Internet of Things devices.
But to fully realize 5G's potential, the network infrastructure behind it requires modernization. Operators often are limited by the hardware and software used in cellular networks. Traditional radio access networks (RANs) lock an operator into a single equipment supplier's technology, leading to higher costs and less innovation in the industry.
Open RAN, by contrast, opens up possibilities for the infrastructure. It enables equipment interoperability to drive innovation, reduce costs and create more resilient, reliable and secure networks — big advantages for both the industry and end users.
CableLabs recently wrapped up a day packed with insightful discussions about Open RAN — what it is, where it's going and how we'll realize its potential. The presentations and conversations took place at SCTE Cable-Tec Expo 2023. Speakers and panelists during Expo's Open RAN Technical Summit included industry analysts and experts from some of the world's leading mobile operators and equipment vendors. We also heard from CableLabs' own experts as well as representatives from government Open RAN programs in the United States and the United Kingdom.
Why Open RAN?
Before I dive into some of the highlights from the Technical Summit sessions, you might be wondering: Why is CableLabs — a company founded to advance cable technology collaboration and innovation — focusing on a wireless architecture like Open RAN?
The answer is simple: It mirrors the priorities of our members. More than half of CableLabs member companies also offer mobile services, and finding solutions for future 5G networks is high on their list. For these mobile network operators (MNOs) to successfully navigate the path toward the wireless networks of the future, they'll require a robust and open ecosystem.
The development of the open architecture is in its early stages, and — as several speakers during the Technical Summit noted — we'll start to see the fruits of our collective labor pay off in the next few years. Below are other key takeaways from the speakers and panelists in the operator, vendor and government sessions during the Open RAN Technical Summit event.
Operator Deployments and Planning
MNOs around the world are working on solutions for more flexible and cost-effective networks. To enhance their 5G network capabilities, operators actively collaborate with solution providers and help lead conversations in the industry to foster innovation and accelerate the development and deployment of Open RAN. Here's a look at a few of the topics discussed during the Technical Summit's sessions with operators:
A key topic and initiative. MNOs originated the work on Open RAN many years ago to tackle the key points noted above, and their interest continues. Earlier this year, a coalition of European operators — Deutsche Telekom, Orange, Telecom Italia (TIM), Telefónica and Vodafone — published their latest report on the state of the ecosystem, "Open RAN MoU Progress Update on Maturity, Security and Energy Efficiency."
Ramping up deployments and commitments. Operators at the forefront of Open RAN deployment include Vodafone, which has committed to 30 percent of its sites deploying Open RAN throughout Europe by the year 2030. Also, Dish Networks has deployed Open RAN across its greenfield network in the U.S. over the last couple of years.
Ongoing research and development. Not all MNOs are actively deploying Open RAN, but all are researching, testing, trialing or involved in other similar activities. Some operators just finished deploying their 5G networks using traditional RAN networks and vendors, but they are already working to understand when the time will be right to start deploying Open RAN.
Suppliers Partnering for Innovation
As the industry moves toward more open and modular RAN architectures, vendors aren't just contributors to the development; they're also key drivers of innovation. Their solutions must meet the demands for security, efficiency and sustainability to enable the next generation of wireless networks. Solution providers around the world are involved in advancing Open RAN innovations, and, during the summit, we heard from a few of these traditional vendors and newer suppliers. Here's a glance at what was discussed in the sessions:
Commitments from leading suppliers. Ericsson announced in September and restated in partnership with Vodafone its support and plans for Open RAN at the Telecom Infra Project (TIP) Fyuz Conference in Madrid in October. They further confirmed this and additional details about their plans at Cable-Tec Expo.
Multi-supplier networks: Nokia has also recently made commitments to support the Open RAN ecosystem with its solutions and announced deployments with Docomo in Asia. The company also recently announced a partnership with Mavenir to "prove Open RAN system performance."
Interoperability activities. Mavenir and other newer vendors that have focused on Open RAN have been active in interoperability activities and events like the 5G Challenge and O-RAN Open Test and Integration Center (OTIC) PlugFests for a number of years already.
A Boost at the Government Level
Open RAN development hasn't been limited to industry players. With its promise to make networks more open, flexible and inclusive, it's no surprise that governments around the world are taking note. This significant investment of capital and resources at the government level will result in a more diverse and competitive marketplace, a more resilient and secure supply chain, and improved national security. The summit highlighted the work in this sphere, including:
Government strategy. Agencies such as the National Telecommunications and Information Administration's (NTIA's) Institute for Telecommunication Sciences (ITS) in the U.S. and the U.K.'s Department for Science, Innovation and Technology (DSIT) are heavily invested in jumpstarting the development and eventual deployment of products for 5G networks. Other governments that are investing in the development of the ecosystem include Canada, Germany, Australia, India, South Korea and Singapore.
Active participation and promotion. Activities such as the recent 5G Challenge — for which CableLabs served as the host lab — and the U.K.'s similar Future RAN Competition (FRANC) are designed to foster collaboration and accelerate commercial adoption of Open RAN solutions.
Accelerating Adoption Through Activities
These important discussions during the Open RAN Technical Summit only scratch the surface of the work that CableLabs and others are doing to develop interoperable solutions that will advance 5G networks. Involvement in PlugFests and events like the 5G Challenge — as well as industry working groups, field trials and ongoing standards work with the O-RAN Alliance — place operators, vendors and government agencies chief among the experts at the forefront of developing Open RAN solutions.
CableLabs' involvement in this area isn't new, and our commitment to Open RAN is only growing stronger. My recent participation this month on a panel at the Joint O-RAN Software Community (OSC)/Open Source Focus Group (OSFG) and OpenAirInterface (OAI) Workshop is another recent example of how our Wireless Technologies team continually keeps these conversations going with other stakeholders.
Our work continues, along with our involvement in 3GPP, O-RAN Alliance and TIP. Together, we'll move the industry toward our mutual goal of a fully interoperable, virtual, multivendor 5G network. To stay up to date on CableLabs' work in Open RAN and other mobile technology areas, click the button below to subscribe to our blog.
Focus Shifts to Network Reliability in DOCSIS 4.0 Interop·Labs Event
CableLabs and Kyrio hosted a DOCSIS® 4.0 Interop·Labs event November 6–9 at our headquarters in Louisville, Colorado. It was a busy, week-long experience that highlighted multiple facets of DOCSIS 4.0 technology, and the many suppliers involved worked together to make it a success.
The primary focus of the event was network reliability — in particular, DOCSIS 4.0 cable modem (CM) proactive network maintenance (PNM) functions in DOCSIS 4.0 cable modem termination systems (CMTSs). There also were Remote PHY Device (RPD) interoperability exercises.
At this interop, four DOCSIS 4.0 CMs from four suppliers were interconnected to both DOCSIS 4.0 and DOCSIS 3.1 CMTSs from three companies. Participating suppliers were Arcadyan, Casa Systems, DCT-DELTA, Harmonic, Sagemcom, Ubee Interactive, and Vecima Networks. Rohde & Schwarz also participated with its DOCSIS 4.0 test system. Operators attended to observe the interop and talk about their DOCSIS 4.0 technology plans.
Network Reliability at the Forefront
Every day, hundreds of millions of broadband consumers use DOCSIS technology, and they depend on a reliable connection. DOCSIS PNM, which uses data provided by DOCSIS equipment, is foundational to the reliability of that connection.
For operators to keep tabs on the network and their offered services, data elements need to be both available and accurate. The goal of PNM is to fix issues before customers even realize there is a problem — before any service impacts occur.
PNM technology can be summarized into three areas: data collection, algorithms that use the data to analyze the network, and network operations to ensure continuous service.
Data collection. DOCSIS equipment generates vast amounts of network performance data to detect and measure issues within the cable plant. What kind of data? Data about both downstream and upstream RF performance, data on the spectrum in use, data on the signals on the coaxial cable, data on how the transmitters and receivers are operating, and more. At the interop event, we verified that the data reporting is both there and correctly formatted. For operator systems to use that data effectively, it has to be standardized in order for every modem from every manufacturer to report apples-to-apples information so that operator systems can use that data effectively.
Analysis algorithms. Once data is collected from the CMs, it's run through algorithms to examine the health of the network. Systems sift through this data constantly, looking for anomalies. At the interop, the algorithms were discussed and compared, with operators describing how the data is used and what is being looked for.
Network operations. The DOCSIS PNM team maintains a reference document that describes how the data must be formatted, how it can be collected and which algorithms can be run on the data. Numerous SCTE Cable-Tec Expo papers discuss how to interpret the data and use it to maintain the network at the highest levels of service. The interop event featured eight high-runner PNM tests, collecting data from the DOCSIS equipment and putting it through algorithms. In the lab, it's possible to simulate errored network conditions and use the data and algorithms to verify the condition of the network. SCTE is also involved with preparations for DOCSIS 4.0 tools and deployments, as Jason Rupe describes in the blog post "Ready, Set, 4.0: Tooling Up for DOCSIS Technology's Rollout."
A Comprehensive DOCSIS 4.0 Interop Event
Attending the event was one participant's DOCSIS 4.0 virtual core platform and fiber node, which included a DOCSIS 4.0 extended spectrum DOCSIS (ESD) remote PHY device (RPD). This solution was a DOCSIS 4.0 ESD CMTS, and the DOCSIS 4.0 CM suppliers were excited to work with it. The DOCSIS 4.0 ESD CMTS operated both on a DOCSIS 4.0 ultra-high-split as well as up to 1.8 GHz on the coaxial cable. Both speed testing and security testing were examined against the DOCSIS 4.0 CMTS, continuing the work from previous interop events.
Remote-PHY Interop Exercises
DOCSIS 4.0 technology requires a distributed access architecture (DAA). At this interop, suppliers exhibited an array of DOCSIS 4.0 virtual cores. One supplier, which manufactures fiber nodes and RPDs, brought its DOCSIS 3.1 RPD with enhanced DOCSIS 3.1 capabilities. CableLabs and Kyrio were ready to support this kind of interop too. In essence, then, this wasn't merely a DOCSIS 4.0 interop, but also a Remote PHY interop!
Collaborative DOCSIS Technology Evolution
At the DOCSIS 4.0 Interop·Labs event, CMTS and CM suppliers continued their efforts to verify that their equipment works together, further peeling the onion and diving into the nitty-gritty details of the specifications. This is where interoperability really happens.
All of the participants, along with us at CableLabs, left with a stronger understanding of product functionality and multi-vendor interoperability — and new work to do. Moving forward, the suppliers will continue to collaborate to refine their products and add further functionality.
Interop events are a major step toward large-scale deployment of DOCSIS 4.0 technology. Another step is certification. To find out more about Cable Modem Certification, click the button below.
DOCSIS 4.0 Technology Makes Waves From SCTE Cable-Tec Expo to Launch
If you attended SCTE Cable-Tec Expo last month in Denver, you likely heard quite a bit about DOCSIS® 4.0 technology. In many sessions, on the Expo show floor and in countless conversations in between, the message was loud and clear: The era of DOCSIS 4.0 networks is here.
While we were hearing about the technology at Expo, the world's first DOCSIS 4.0 network services were being introduced to customers just down the road in Colorado Springs. The new services from Comcast offer symmetric speed tiers of up to 2 Gbps downstream and upstream.
The Colorado Springs launch and subsequent deployment this week in Atlanta mark an exciting leap forward for cable operators and vendors in their path toward enabling a powerful 10G future. In addition to delivering faster symmetrical speeds, the 10G network will offer more reliability, lower latency and enhanced security.
Cable-Tec Expo offered proof that DOCSIS 4.0 technologies are ready to provide cable operators with what they need to begin offering 10G services. Online streaming of many Expo sessions is available to attendees through November 20, but I've recapped some of my most valuable takeaways below. What were you most excited to hear about? Leave a comment below to join the conversation.
Cost-Effective Upgrade Paths
Vendors and operators showcased product developments for cost-effective DOCSIS 4.0 technology upgrades, making upgrading existing hybrid fiber coax (HFC) networks an attractive and competitive choice compared with expensive fiber upgrades. Comcast demonstrated modular DOCSIS 4.0 full-duplex amplifiers and nodes, allowing for easy field upgrades. Operators also demonstrated services that combine DOCSIS 4.0 modems and DOCSIS 3.1 network gear, enabling new fiber-like speed tiers while phasing plant investment.
A Growing Ecosystem
Cable-Tec Expo highlighted a vibrant DOCSIS 4.0 technology ecosystem with the demonstration of a wide variety of nodes, amplifiers and customer premises equipment (CPE), which either have been announced or are available now. MaxLinear announced its Puma8 Extended Spectrum DOCSIS (ESD) chipset for DOCSIS 4.0 technologies, creating silicon choice for the ecosystem.
Flexibility and Interoperability
Exhibits at Expo demonstrated vendor and operator flexibility and growing efforts throughout the ecosystem to minimize complexity. Broadcom and Comcast announced a combined ESD/Full Duplex DOCSIS (FDX) chipset for DOCSIS 4.0 technologies, enabling operation in both modes and with embedded AI and ML capabilities to improve network maintenance. Vendors showcased modular nodes that give operators more options by enabling both DOCSIS technology and passive optical networking (PON) services in the same service groups.
AI and Machine Learning
It's no surprise that AI and ML played a significant role at the conference. Vendors and operators are leveraging the technologies for proactive network maintenance and spectrum management to boost network reliability and efficiency.
The Future of 10G and DOCSIS 4.0 Technologies
SCTE Cable-Tec Expo 2023 demonstrated the readiness of DOCSIS 4.0 technologies, which offer cable operators a cost-effective and rapid pathway to launch 10G services. These next-generation services are supported by a growing ecosystem and operational improvements that are made possible by advanced technologies like AI and ML.
The evolution toward 10G and its limitless potential begins with DOCSIS 4.0 networks. Welcome to the journey.
Gaussian Splatting: Painting Immersive Scenes With Reality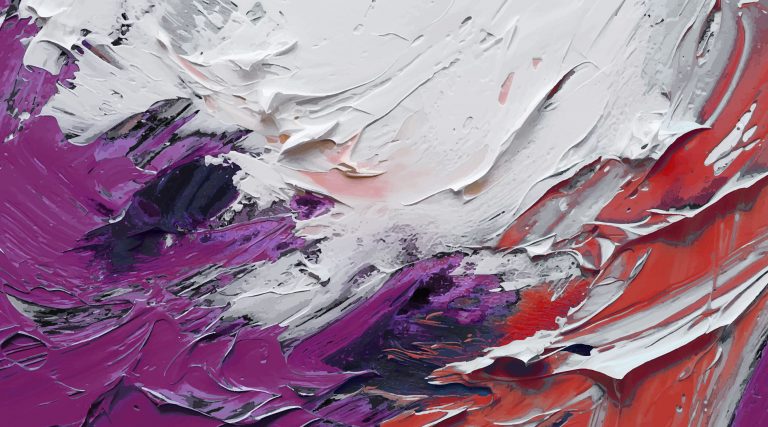 The state of the art of immersive media is evolving so rapidly that it's hard to keep up! It often feels as if you can choose a random limitation in the latest research, wait a few weeks and find a new paper that's solved that problem. Here, we'll look at an example of exactly that, pushing the bar to get faster, higher-quality immersive content.
If you didn't catch our previous post, we looked at Neural Radiance Fields (NeRF) for their ability to "memorize" beautiful, photorealistic 3D snapshots of the real world. In the past three years, a lively community has sprung up around NeRF. Developers and artists have created content, built tools and pushed boundaries on all the ways NeRF can be used.
One of NeRF's biggest remaining limitations is that real-time interactive viewing of NeRF-based content generally requires reducing image quality, which can cause fog-like visual artifacts and color inaccuracies in the scene.
As it turns out, the answer to this problem came in a paper at SIGGRAPH 2023: 3D Gaussian Splatting for Real-Time Radiance Field Rendering. Despite having little to no conceptual connection to the original NeRF methodology, Gaussian Splatting dramatically improved both visual fidelity and performance of real-time viewing. The results speak for themselves: In just the few months since the paper was released, we've seen dozens of product enhancements and launches incorporating Gaussian Splatting functionality.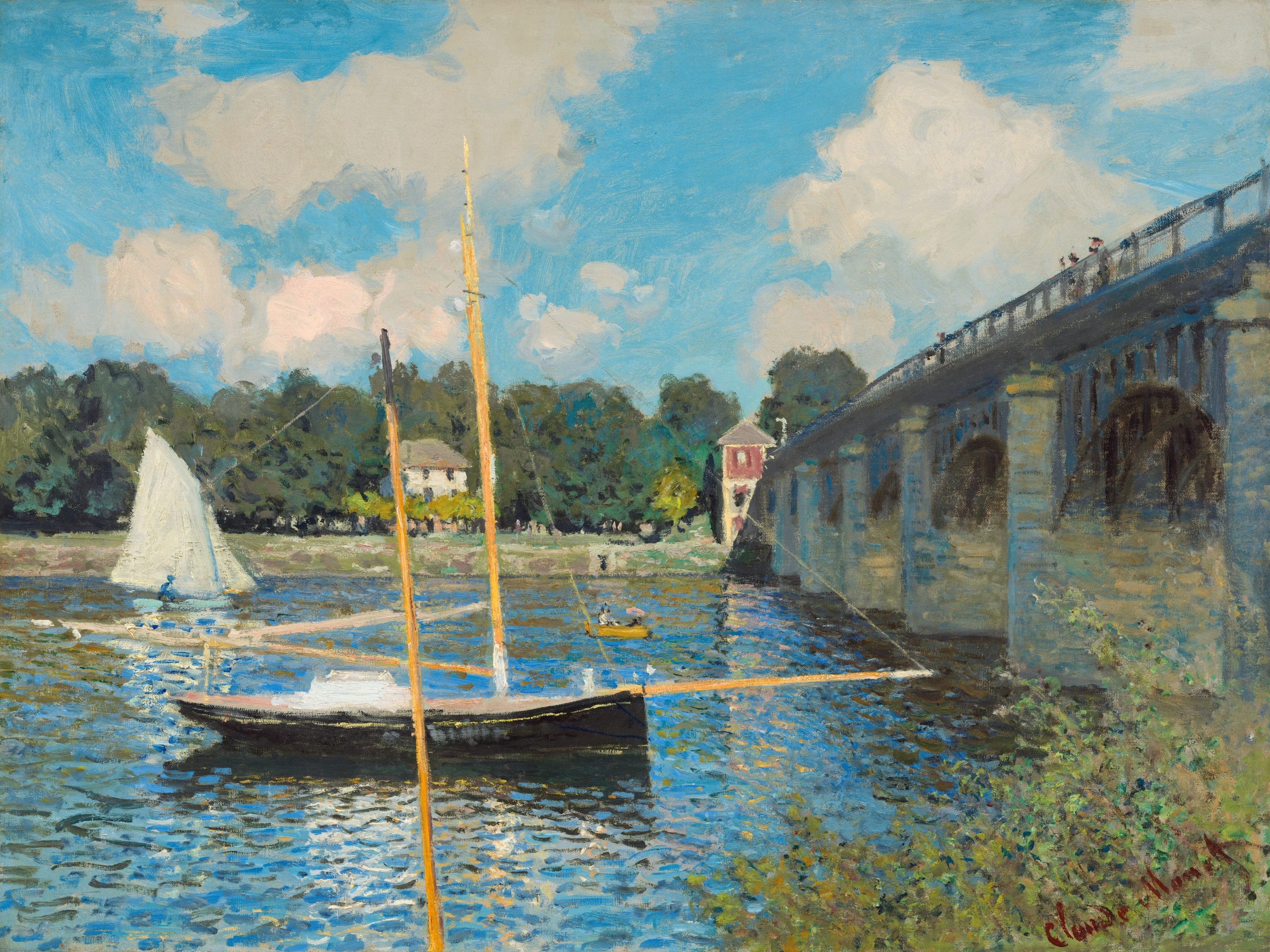 The Bridge at Argenteuil, Claude Monet, 1874 (Collection of Mr. and Mrs. Paul Mellon)
How It Works: Computer-Generated Impressionism
If you're a fan of Monet or Renoir, you're likely familiar with Impressionism. This 19th century art movement is known for large, distinct brushstrokes and an emphasis on larger forms, as you can see in the above example. Try looking too close and you'll mostly see brushstrokes; the full scene comes together when you gaze at it from far enough away.
As it turns out, Impressionism is a useful analogy for Gaussian Splatting. Creating a scene with Gaussian Splatting is like making an Impressionist painting, but in 3D. The scene is composed of millions of "splats," also known as 3D Gaussians. Each splat is like a voluminous cloud painted onto an empty 3D space, and each splat can show different colors from various angles to mimic view-dependent effects like reflections. When you build a scene from lots of small splats, the result can be amazingly photorealistic!
Here's an example. I recorded this cellphone video at the Duke Gardens in Durham, North Carolina: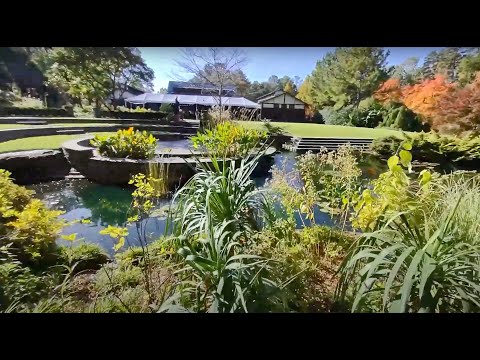 Here's the result as an interactive Gaussian Splatting scene via Luma AI. You can click and drag to move the scene around.
You can view a couple more examples from my visit to the gardens here and here.
From a technical perspective, 3D Gaussians are a unique variant of point clouds, where each point encodes spherical harmonics for view-dependent color and a covariance matrix for describing shape (some sort of directionally scaled sphere). Although splat-based rendering has existed for a long time, the Gaussian Splatting paper was the first to show that 3D Gaussians serve as an excellent scene representation, and it describes new methods to create and efficiently render these scenes. For more details, refer to the SIGGRAPH paper or the video overview provided on the authors' website.
Gaussian Splatting scenes tend to be large compared to other scene formats, on the order of hundreds of megabytes to gigabytes. Each splat is 248 bytes, and a scene is typically composed of millions of splats. However, programmer Aras Pranckevičius has a great technical deep dive showing that Gaussian Splatting is ripe for compression, bringing sizes under a gigabyte with little to no visual impact, or smaller if you can accept "lossy" visuals.
Network Traffic of the Future
With all this said about Gaussian Splatting, where are we going next?
The dust hasn't settled on immersive scene representations. A new research preprint already proposes combining the strengths of NeRF and Gaussian Splatting into a hybrid approach. Still, everything is so fast that the state of the art could change any day. When things do settle, the next step will be standardization.
If Gaussian Splatting is here to stay, we should expect file sizes to grow with the scale of the use cases at play. For example, a real estate agent selling a house may want to deliver an online virtual tour that allows viewers to experience granular details like the sparkle of a fine granite countertop while also walking through the rooms and seeing the house from the outside.
Going even bigger, consider a power transmission/distribution company that constructs a visual digital twin of its entire power grid across a city, then sync that across cloud simulations and user interfaces. Whereas previously we discussed scenes on the order of millions of splats, eventually we'll need billions and beyond.
CableLabs' Immersive Media Experiences team engages with immersive standards activities and monitors the state of the art of immersive media to understand and communicate key trends and their impact on the cable industry. Subscribe to our blog for more updates from the Immersive Media Team and other activities at CableLabs.
Why Accelerating FTTP Adoption Is Critical to Leveraging PON's Potential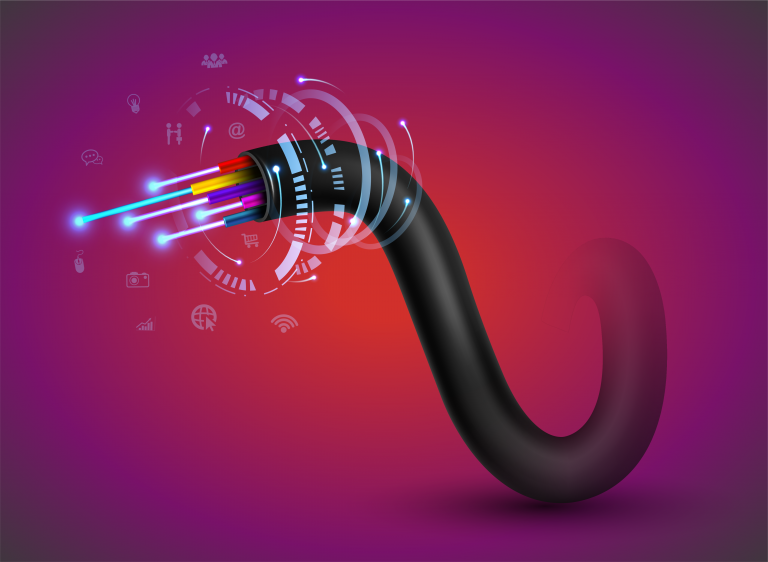 Alongside the hustle and bustle in the cable industry to deploy DOCSIS® 4.0 technology, another 10G solution quietly plods along with pinpoint precision: fiber to the premise (FTTP). In FTTP, the premise can represent a home, business, campus, multiple-dwelling unit, etc.
Despite what fiber overbuilders might want you to believe, the cable industry has always embraced fiber-optic technologies in its access networks, beginning with the dominant media component in hybrid fiber coax (HFC) networks. For the past handful of years, the industry has also embraced passive optical network (PON) technology to deliver services over FTTP networks, especially in greenfield deployment scenarios.
CableLabs has consistently been in lockstep with our operator members when it comes to the development and deployment of wired technologies — tackling new versions of DOCSIS technology and innovating around enhancements to the HFC network. Now, CableLabs is flexing once again with an increased focus on FTTP networks and PON technologies, along with an adjustment of resources to support it.
We continue to be focused on DOCSIS 4.0 technology solutions as operators begin deployments, but now we're also getting laser-focused on FTTP adoption. This technology lays the foundation for operators to deliver lightning-fast, symmetrical speeds and increased reliability while also reducing their own maintenance costs later on down the road.
Join Our Working Groups
This week, we're kicking off this work in earnest with the launch of two new working groups. One will focus on optical operations and maintenance, and the other will focus on specifying a DOCSIS framework for provisioning International Telecommunication Union (ITU)-based PON technology. If your company is involved in these technologies, you should be involved. We're getting started Thursday, October 26. To learn more or join the groups, click the button below to reach out to us.
Our work toward achieving FTTP adoption extends to six pillars of activity:
Provisioning and Integration — Easily the largest scope and most important of the six pillars, provisioning and integration refers to PON technology that efficiently and seamlessly integrates with a cable operator's existing back-office systems. Using DOCSIS-related provisioning systems to provision and manage PON technology is a great example of seamlessly integrating PON with existing cable systems. Another example: monitoring optical communication systems with tight integration with systems that monitor DOCSIS-based HFC networks.
Ecosystem Engagement — There are several large organizations that focus on standards and architectural solutions related to PON technology. The ITU and Institute of Electrical and Electronics Engineers (IEEE) are two standards development organizations with a long history of PON technology standardization, and the Broadband Forum (BBF) has focused on test plans and PON architectures. The goal of this FTTP pillar is to monitor, influence and drive solutions that benefit CableLabs membership.
Strategic Guidance — Although cable operators clearly have a long and solid history with fiber-based networks, the PON technology and extending fiber to each home come with certain service nuances. Coexisting with other generations of PON, for example, may be an area where operators could use some guidance. Virtualization of PON systems is another area where strategic guidance could be helpful.
Interoperability — One of the challenges that service providers most commonly mention is the lack of interoperability in PON solutions. For PON, interoperability is the ability for an optical line terminal (OLT) from one vendor to interoperate with optical network terminals (ONTs) from a multitude of other vendors. Multi-vendor interoperability allows a service provider to avoid vendor lock-in and use devices from multiple vendors.
Next-Generation PON — Contributing to the development of next-generation PON technology is an important role for CableLabs to ensure that cable operator requirements are considered during the development. Coherent PON (CPON) technology, currently being led by CableLabs and the cable industry, is a great example of how CableLabs can provide leadership in the telecommunications industry.
Convergence — The holy grail for service providers is providing service anytime and anywhere, regardless of the last-mile technology. Wireless, DOCSIS-based HFC and PON are all last-mile options for broadband services, and all three can achieve significant cost savings and new service revenue if converged appropriately.
From FTTP Activity to FTTP Adoption
CableLabs has pivoted some of its resources to put much more focus on these six areas of FTTP activity. We're working with our subsidiaries Kyrio and SCTE to involve the operator and vendor community every step along the way, from the technology's development through testing and deployment. In addition to joining working groups, our­­­­ members can also access MicroLessons, training courses and other SCTE resources — all included in the CableLabs All Access program.
Participants can join our working groups anytime, but we hope you'll get started with us from the get-go. Click the button below to join one or both of these groups and be a part of the important work to accelerate FTTP adoption.  Not part of our operator or vendor ecosystem yet? It's never too late to join. If your company's already a participant, create an account and you'll be on your way to accessing all of CableLabs' benefits.
Cybersecurity Awareness Month and Beyond: How We're Safeguarding Network Integrity  
In the digital age, cybersecurity is the first line of defense against an ever-expanding and continually evolving array of threats. The increasing sophistication of cyber threats and a deepening dependence on interconnectivity have elevated cybersecurity technologies from a peripheral consideration to a critical priority.
October is Cybersecurity Awareness Month, but safeguarding digital integrity is a year-round commitment for CableLabs. In our Security Lab, we work to identify and mitigate threats to the access network. We proactively develop innovative technologies that make it easier for internet users to protect their digital lives.
Let's take a look at some of the CableLabs technologies that are enhancing network security and reshaping the way we protect ourselves online.
DOCSIS 4.0 Security
The new DOCSIS® 4.0 protocol is another promising chapter in the successful life of hybrid fiber coax (HFC) networks, and it brings with it notable security enhancements to the broadband community.
It's important to note that DOCSIS 4.0 cable modems (CMs) are compatible with existing DOCSIS 3.1 networks. This allows the CMs to take advantage of higher speed tiers even without needing to upgrade the network at the same time. To fully leverage the new upstream bandwidth efficiency and security features of the protocol, both modems and cable modem termination systems (CMTSs) need to support DOCSIS 4.0 technology.
Another key security-enhancing element of the technology is that DOCSIS 4.0 networks come with upgradable security. The technology continues to support the Baseline Privacy protocol (BPI+ V1) used in DOCSIS 3.1 specifications. It also integrates the new version that can be enabled as needed (BPI+ V2).
The new version introduces mutual authentication between devices and the network, eliminates the dependency on the Rivest Shamir Adleman (RSA) algorithm and implements modern key exchange mechanisms. This change enhances device authentications with Perfect Forward Secrecy and cryptographic agility and aligns DOCSIS key exchange mechanisms with the latest Transport Layer Security (TLS) protocol, v1.3.
Further upgrades include enhanced revocation-checking capabilities with support for both Online Certificate Status Protocol (OCSP) and Certificate Revocation List (CRL) in DOCSIS 4.0 certificates. DOCSIS 4.0 also introduces standardized interfaces for managing edge device access (SSH) aimed at limiting the exposure of corporate secrets (e.g., technicians' passwords) and incorporates a Trust on First Use (TOFU) approach for downgrade protection across BPI+ versions.
Ultimately, the new DOCSIS 4.0 security is designed to provide several options for network risk management. These features include new speeds and capabilities that can be utilized alongside today's security properties and procedures (e.g., BPI+V1 with DOCSIS 3.1 or DOCSIS 4.0 CMTSs) and advanced protections when needed.
Matter Device Onboarding
Passwords are meant to be secret, so why are users sharing them with all of their Internet of Things (IoT) devices? At CableLabs, we're working to make it easy for end-users to add devices to their home networks without needing to share a password with every device.
Because so many devices are communicating with one another, standardization is critical — especially when it comes to security. That's where Matter comes in. The open-source connectivity standard is designed to enable seamless and secure connectivity among the devices in users' smart home platforms.
Our vision is for each device to have its own credential to get on the Wi-Fi network. The access point (AP) would use this unique credential to grant the device access to the network, and the device then would verify the AP's credential. This has three incredibly significant advantages for subscribers:
1. It vastly increases the security of the home network. This is because a compromised device cannot divulge a global network password and lead to a compromise of the entire network.
2. It's possible to leverage the device attestation certificate that comes with every Matter device to inform the network that it's a verified and certified device.
3. There's no need to reset every single device on the network if the Wi-Fi password is changed.
Join us for a demonstration of Matter at SCTE® Cable-Tec Expo®, which is October 17–19 in Denver, Colorado. Come see us in CableLabs' booth 2201 to see the future of networked IoT devices and how scanning a QR code can get a device on a network with its own unique credential.
CableLabs Custom Connectivity for MDUs
One of the fastest-growing market segments for broadband providers worldwide is the multi-dwelling unit (MDU) segment. The opportunities here include fast-growing apartment communities, as well as segments such as emergency/temporary housing, low-cost housing, the hospitality and short-term rental markets, and even emergency services.
A common theme across these is the need for an alternate deployment model that allows on-demand service activation and life-cycle management, as well as custom connectivity to various devices. The traditional deployment model of installing customer premises equipment (CPE) on a per-subscriber and/or per-unit basis has hindered operators in delivering services to these segments in a cost-effective manner.
The CableLabs Custom Connectivity architecture is designed to address these constraints by providing dynamic, on-demand subscription activation and device-level management to consumers across the operator's footprint — without the need to deploy a CPE. The architecture leverages the security controls and mechanisms designed within the CableLabs Micronets technology to provide dynamic, micro-segmentation-based subscription delivery where a subscriber's devices can connect to their "home subscription" from anywhere on the network and across different access technologies (Wi-Fi, cellular, etc.).
Additionally, it provides consistent operational interfaces for device authentication and service provisioning, as well as billing and subscription management interfaces to enable on-the-fly subscription activation and management.
Safer Networks, Empowered Users
The importance of proactive cybersecurity measures can't be overstated, and these cutting-edge technologies are proof of CableLabs' ongoing commitment to enhancing network security. These innovations not only make our networks safer, but they also empower users to take charge of their own online security.
By staying at the forefront of cybersecurity advancements, CableLabs continues to ensure we can all navigate the digital world with greater confidence and peace of mind.
SCTE Cable-Tec Expo 2023 Celebrates 40 Years of Cable Industry Innovation
The future of connectivity is being built today. As new solutions enter the market and industry leaders leverage emerging technologies and 10G breakthroughs, the cable industry is making a difference with powerful capabilities that reach into nearly every home. The best place to experience these advancements in one place is in person at SCTE® Cable-Tec Expo® 2023 — and it's all happening this month in Denver, Colorado.
SCTE Cable-Tec Expo is the largest and most influential cable industry event in the Americas, bringing together the best creative minds and the latest in pioneering technologies. This year's event, which will mark the Cable-Tec Expo's 40th anniversary, takes place October 16–19.
We look forward to celebrating four decades of thought leadership, technology innovation, emerging applications and business insights with thousands of other industry professionals. Join CableLabs, along with subsidiaries Kyrio and SCTE, and other cable industry leaders and experts to see what's next for the industry.
Experience Future-Ready Technology
In the Exhibit Hall, attendees can discover new solutions and products, experience emerging technologies, and network with industry leaders and peers. Stop by booth 2201 to talk with technologists and see demonstrations of leading-edge technology solutions from CableLabs, Kyrio and Gridmetrics. Here's a look at what you can expect to learn about in our demos.
Experiencing holograms with 10G: Come get a glimpse into what 10G will be able to deliver in this demonstration of a 65-inch light field display. Experience realistic, next-generation 3D holograms that don't require any special glasses or head-mounted displays, and interact with applications that enhance the ways we'll live, work, learn and play in the future.
Effortless home networking using meshed Wi-Fi: Learn how multiple, discrete home networks can be set up on the fly with per-device credentials and prioritization using an array of meshed Wi-Fi access points. We'll show you how this can be achieved without cables and customer premises equipment (CPE) for households and customers that were previously difficult to serve.
Streamlined Internet of Things connections: Still sharing your network password with every single Internet of Things (IoT) device? This demonstration will show you the future of networked IoT devices, using the new IoT standard, Matter. See how scanning a QR code gets a device on the network with its own unique credential, which is more secure and easier to manage.
Harnessing the power of DOCSIS® 4.0 technology: Come talk with us about the next generation of DOCSIS networks and hybrid fiber coax (HFC) technology, from specifications to standards, to Interop·Labs events for DOCSIS 4.0 devices, to certification. We'll have experts on hand to highlight the benefits of new DOCSIS 4.0 technologies, including security enhancements and the ability for MSOs to increase service tiers immediately by using DOCSIS 4.0 cable modems (CMs) on DOCSIS 3.1 cable modem termination systems (CMTSs).
Unpacking the potential of NaaP: Get an overview of application layer convergence, also known as Network as a Platform (NaaP). NaaP has been a key focus to help facilitate broader ecosystem enablement, leveraging intent-based APIs that reside in the Network Exposure Layer (NEL). This demonstration will include an NaaP program overview, industry standards alignment activity, completed lab proofs of concept and demos highlighting current intent-based APIs.
MIND's mastery in discovering HFC elements: This demonstration will showcase the discovery of HFC network elements and topology from a starting point of "no available as-built maps." MIND™ — or Methodology for Intelligent Network Discovery — leverages multiple sources of information and tools, including DOCSIS technologies, Proactive Network Maintenance (PNM), geodata, direct analysis and artificial intelligence, and discovers the HFC network elements, their identifying parameters, location and connectivity. This information can then be used for numerous applications, such as map generation and verification, fraud detection, what-if scenarios, 1.8/3+ GHz planning, device localization, on-demand network characterization, etc.
Advanced protocol efficiency for reduced lag: Protocol advancements are helping to solve the problem of lag, but how do you know if those enhancements are working? Join Kyrio for demonstrations of PON testing capabilities for ONT/ONU and OLT interoperability and thermal testing, as well as low-latency testing.
Validating supplier solutions for 5G and Open RAN testing: In this demo, Kyrio will illustrate 5G and Open RAN testing capabilities based on a testing strategy to validate supplier solutions within operator/carrier-grade deployment scenarios. Learn how Kyrio's comprehensive testing solutions support product design, development and launch.
ARC Hotspot's seamless failover capabilities: Get a first-hand look at Kyrio's revolutionary software-based broadband failover solution, ARC Hotspot. This technology automatically performs a failover from fixed broadband to a designated mobile hotspot when broadband goes down and facilitates automatic failback when the connection is restored.
Effortless Wi-Fi-to-mobile transitions using ARC Mobile: Learn how Kyrio is solving the seamless connectivity problem with ARC Mobile. With no additional hardware requirements, ARC Mobile seamlessly and instantaneously switches traffic between Wi-Fi and mobile networks depending on real-time network conditions.
Amplifying power distribution grid insights with Gridmetrics: S­­­ee a demonstration of Gridmetrics' Power Event Notification System (PENS) and learn about an evolving roadmap supporting the real-time-all-the-time needs for the modernized power distribution grid.
Visit the CableLabs booth to learn more about these cutting-edge innovations and see them in action.
Spotlighting Cable Industry Achievements
Other highlights from the event will include the Fall Technical Forum, the L&D Experience, the Open RAN Technical Summit, plus additional tracks and summits focusing on policy, strategy and security.
On Wednesday, October 18, join a special session, "Accelerating FTTP Adoption: CableLabs Leaders Discuss Lowering the Barrier to PON Deployments." Our team of experts will offer valuable insights into passive optical networking and address critical aspects of the technology, including interoperability, training, provisioning integration and proactive network maintenance.
The session is one of several presentations and panel discussions in the Exhibit Hall's Innovation Theater. Experts and thought leaders will take the stage throughout Expo to discuss what's on the horizon for the industry.
Also on October 18, the SCTE Awards & 40th Anniversary of Expo Celebration will spotlight industry achievements and honor leaders and innovators who are working to advance connectivity, 10G technology and more.
There's still time to register for the technology event of the year! Make plans to attend, and chart your path to growth and transformation.
2023 5G Challenge Event Closes Chapter on Open RAN Competition
The 5G Challenge culminated in an inspiring event September 21 with the awarding of $7 million in cash and in-kind prizes to providers of high-performing Open Radio Access Network (RAN) solutions. CableLabs, which served as the host lab in partnership with subsidiary Kyrio, welcomed U.S. and international stakeholders to our headquarters in Colorado for a ceremony marking the end of both the 2023 competition and the two-year challenge program.
Open RAN — a next-generation wireless network architecture — makes building, expanding, upgrading and repairing networks simpler and cheaper for mobile network operators (MNOs). More than half of CableLabs' member companies are MNOs.
The 5G Challenge was launched in 2022 as a collaboration between the National Telecommunications and Information Administration's Institute for Telecommunications Sciences (NTIA-ITS) and the Department of Defense (DoD). The objective was to accelerate the widespread adoption of 5G open interfaces, interoperable subsystems, secure networks and multivendor solutions by cultivating a thriving and vibrant vendor community. We share the NTIA and DoD's goals for creating a more competitive and diverse Open RAN ecosystem.
What Is Open RAN?
Open RAN enables mobile service providers to use subcomponents from various vendors in their wireless networks. Traditional RAN, by contrast, uses a single vendor for all its components, which limits innovation and raises costs. By avoiding vendor lock-in, mobile service providers can repair and replace RAN components and software more quickly and efficiently, which ultimately reduces the cost of deployment and overall lifecycle costs.
Collaboration at Every Level
Selected as the host lab for both years of the challenge, CableLabs partnered with Kyrio — the first O-RAN Alliance Open Testing and Integration Center (OTIC) in the Americas — to provide expertise and our facility for testing the contestants' systems. The testing of components by an independent and neutral lab is key to the Open RAN ecosystem.
Watch the video below to take a look at our state-of-the-art lab and our expert staff working on Open RAN.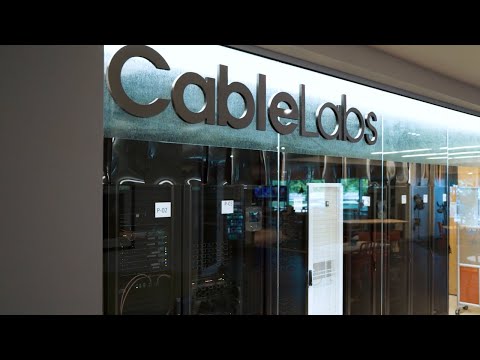 CableLabs' ongoing involvement in Open RAN activities, including hosting O-RAN Alliance PlugFests, and our extensive expertise in mobile network technologies made our facilities well suited for meeting the goals of the challenge. Our staff also assisted the NTIA-ITS and DoD in designing the challenge, including the rules and grading process.
Nine contestants were selected for the 2023 5G Challenge, and solutions were judged for their ability to demonstrate multivendor interoperability across radio units (RUs) and combined central units (CUs) and distributed units (DUs).
"Working together as an industry, working together across the vendor community and with the support of NTIA and our other partners, we were able to do that in a very short timeframe — all of five weeks," our president and CEO, Phil McKinney, noted during the closing ceremony. "Many people didn't think it could be done, but it got done."
Colorado Gov. Jared Polis was also among the government officials, policymakers, industry leaders and other experts attending the event at CableLabs' Louisville headquarters. He commended the 2023 contestants' spirit of innovation and touted the impact of the industry.
"I always find that these challenges really bring out the best of us," he said. "Rather than just doing more of the same, we're challenging people and companies to do things in new and different ways. And one thing's for sure: The better connected we are to one another, the stronger our communities are and the stronger our economy will be. That's really, at its core, what 5G technology is all about."
The 5G Challenge Winners
CableLabs congratulates Lions, Mavenir, NewEdge and Radisys, which comprised the team winning the largest of the 2023 5G Challenge total prize purse awards — $3 million — in the "Stage Four: Mobility" category. The winning team and another mobility team — Capgemini, JMA Wireless and QCT/Benetel — both successfully completed Stage Four, and a tiebreaker determined the prize winner. Other winners were:
Multivendor End-to-End Integration Prizes
First place ($750,000 each and additional lab time): Capgemini and QCT/Benetel
Second place ($250,000 each): Lions and Radisys
Wrap-Around Emulation Prizes ($100,000 each)
Capgemini (CU+DU)
Fujitsu (RU)
GXC (CU+DU and RU)
JMA Wireless (CU+DU)
Lions (RU)
Mavenir (CU+DU)
NewEdge (RU)
QCT/Benetel (RU)
Radisys (CU+DU)
Best in Show Prizes
Best Software Bill of Materials (SBOM) and Vulnerability Exploitability eXchange (VEX) ($100,000 each and security testing): Fujitsu and JMA Wireless
Best Collaborator ($20,000 and security testing): Lions
The participants successfully demonstrated end-to-end data sessions across an Open RAN architecture with multiple vendors. They also demonstrated multivendor end-to-end interoperability with three pairs of Open RAN subsystems conducting data sessions using various protocols, traffic loading and stability in varying radio frequency (RF) conditions. And, in an industry first, mobile handover between two separate multivendor Open RAN next-generation node Bs (gNBs) was achieved.
CableLabs looks forward to working with contestants that were also awarded additional lab time or security testing.
Last year, the 2022 5G Challenge offered a $3 million prize purse to contestants that successfully integrated hardware and/or software solutions for one or more RU, CU and/or DU subsystems.
Building on Successes Together
There's still more to do to fully develop the Open RAN ecosystem, and a neutral lab like ours will be essential for efficient and effective testing. CableLabs is committed to the growth of Open RAN infrastructure, and we look forward to future collaborations with the NTIA and DoD.
Together, we can build a more open and truly plug-and-play Open RAN ecosystem.
A Decade of Energy Savings
It's been 10 years since the pay TV industry released the first report for the U.S. Set-Top Box Voluntary Agreement (STB VA), and the impressive energy savings continue! According to the most recent STB VA report covering the 2022 reporting period, the estimated national footprint of set-top boxes has dropped to 11.9 terawatt-hours per year (TWh/yr), all the way down from 32 TWh/yr in 2012!
Annual Energy Used by STBs in the United States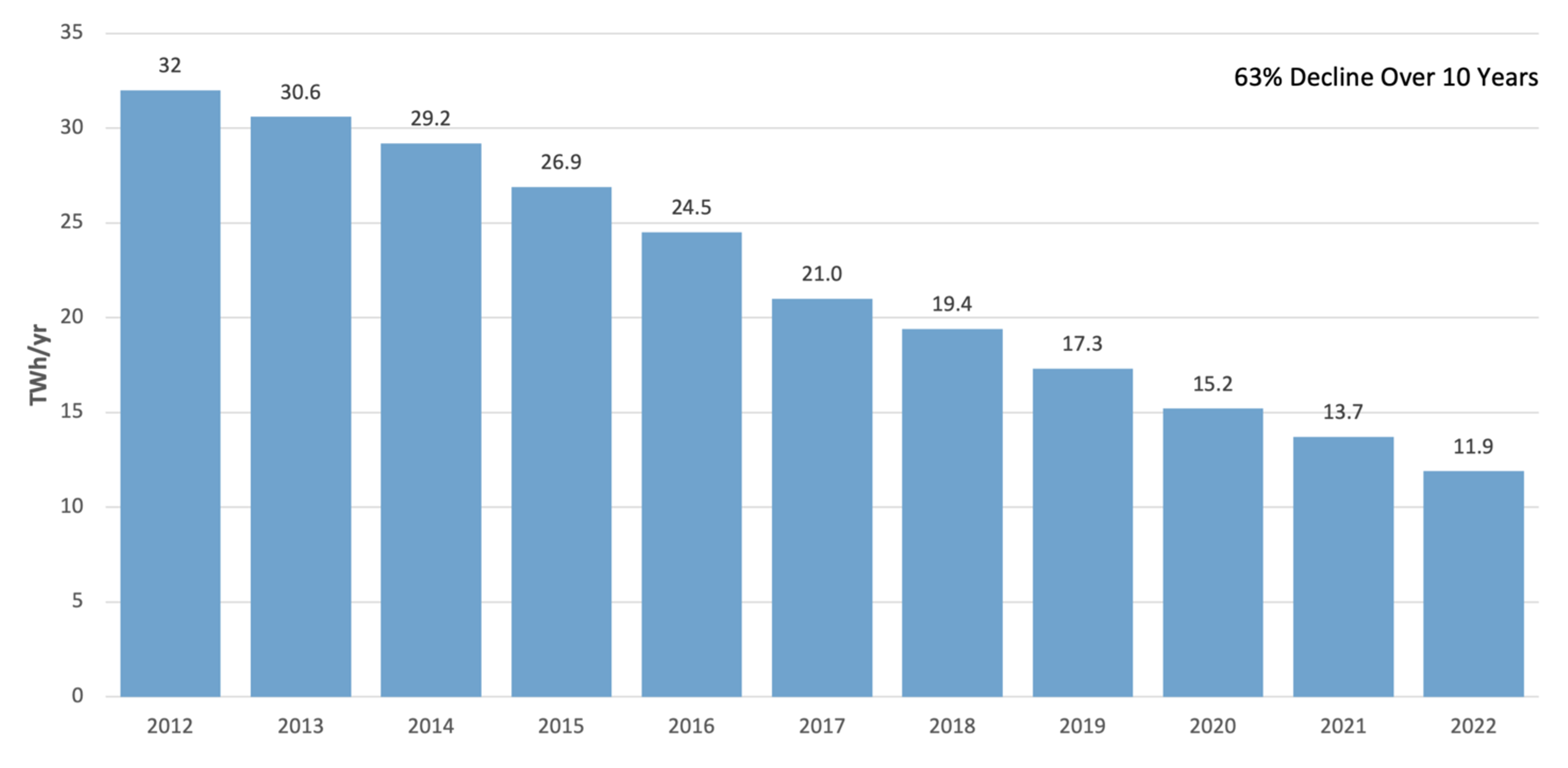 The 2022 savings equate to consumers saving more than $3 billion on their utility bills and avoiding over 14 million metric tons of CO2 emissions. In the 10 years of reporting, this adds up to $14.8 billion saved and 78 million metric tons of CO2 emissions avoided. That's equal to the impact of removing 17.3 million gasoline-powered passenger vehicles from the road for a full year! (Reference: Greenhouse Gas Equivalencies Calculator)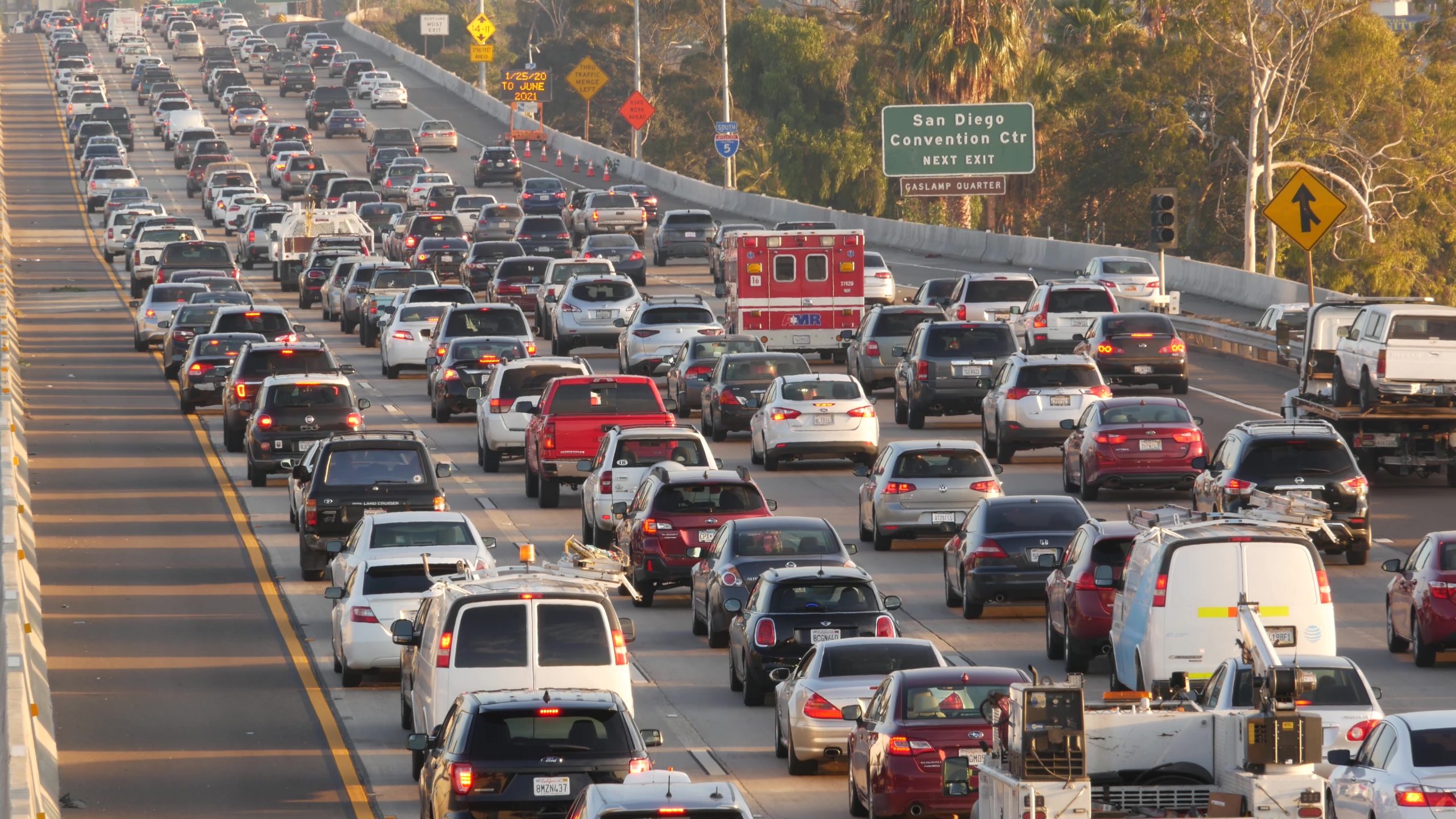 Dogora Sun/Shutterstock.com
As the pay TV industry continues to migrate to more energy-efficient architectures and STB designs, including cloud DVR and small efficient IP-based set-top boxes, the average Typical Energy Consumption (TEC) of newly purchased STBs (weighted by quantities purchased of each model) also continues to trend downward. This data point is important because it reflects improvements that are independent of decreasing subscriber counts.
Average Weighted TEC of Purchased STBs by Year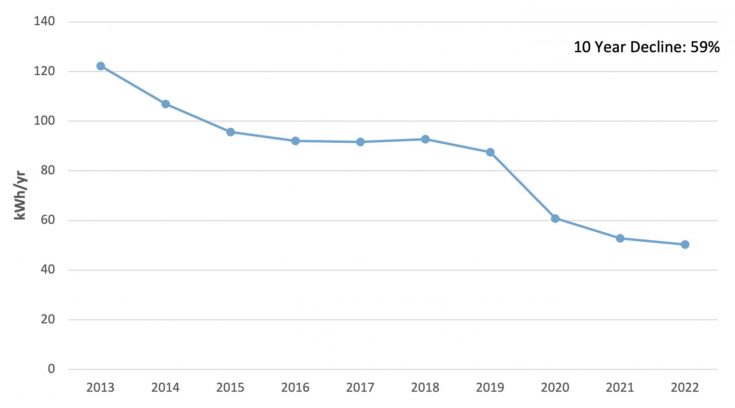 Small Network Equipment Voluntary Agreement (SNE VA)
The SNE VA has also been going strong since 2015, with seven years of reporting included in the recently released 2022 SNE VA Report. As shown in the chart below, the energy efficiency of new SNE purchases continues to improve.
Weighted Average Idle Power of New SNE Purchases Relative to Broadband Speeds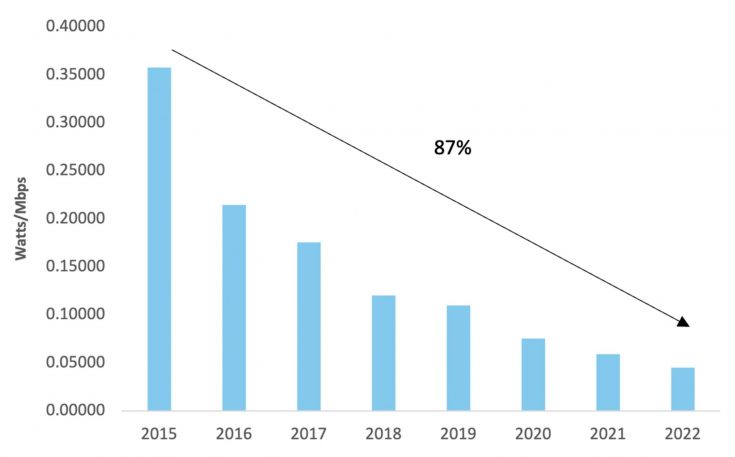 This trend is significant as the industry continues to roll out more capable equipment, supporting higher data rates, support for Wi-Fi 6 and 6E, and lower latency.
The SNE VA also expanded over this past year, adding several new signatories representing the retail market. In addition, the VA added Pacific Gas and Electric (PG&E) — the largest utility provider in California — as an energy efficiency advocate on the program. This is especially important to ensure that we remain aligned with the California Energy Commission's objectives. The service provider and vendor representatives are depicted below.
SNE VA Signatories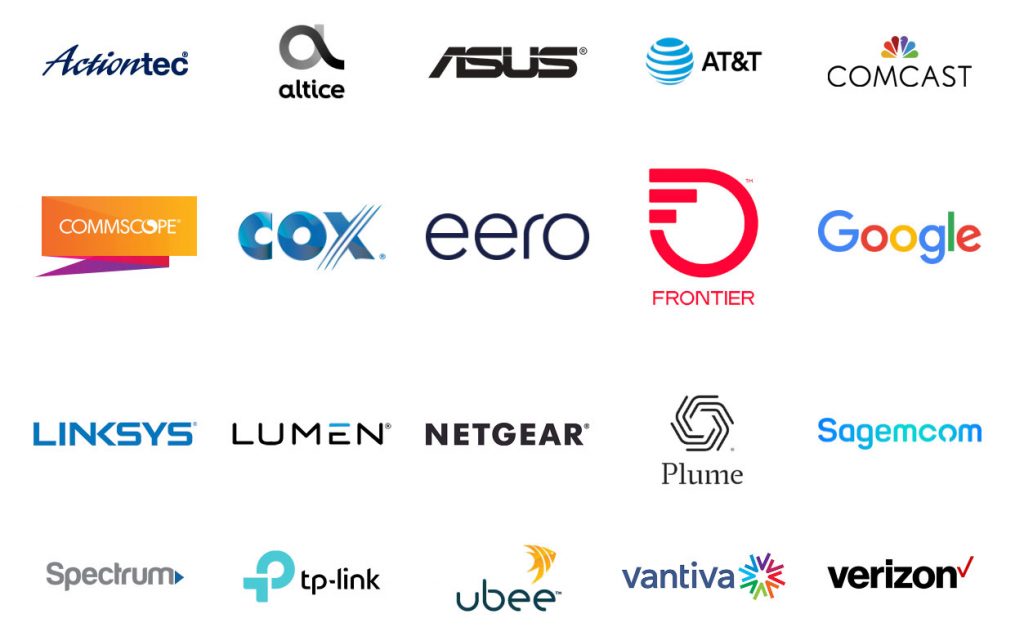 One of the important features of these voluntary agreements is their transparency. Every report released includes an appendix that lists details about each model of equipment that was reported, including its power consumption. The 2022 SNE VA report lists more than 400 unique models of residential network equipment purchased or sold through retail by signatories!
Canadian Energy Efficiency Voluntary Agreement (CEEVA)
And we can't forget the great progress made by our Canadian partners in the voluntary agreement world! With six years of reporting on STB purchases, the CEEVA signatories have reduced the weighted average TEC of new STB purchases by 61 percent!
Average Weighted TEC of New STB Purchases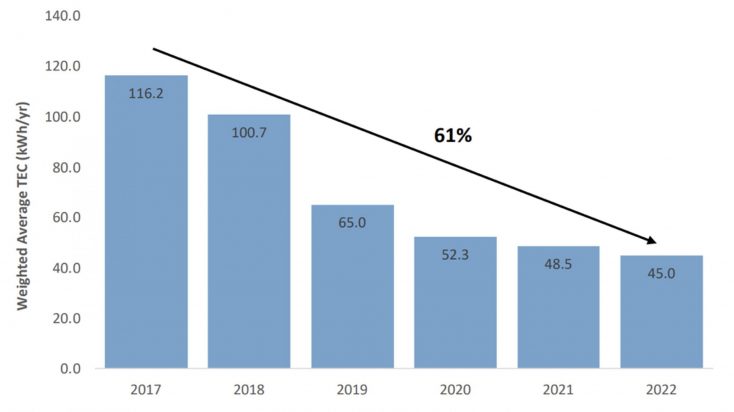 Only three years into CEEVA SNE reporting but already trending in the right direction, the CEEVA SNE report shows a 43 percent improvement in energy efficiency of new SNE purchased by the signatories.
Weighted Average Idle Power of New SNE Purchases Relative to Broadband Speeds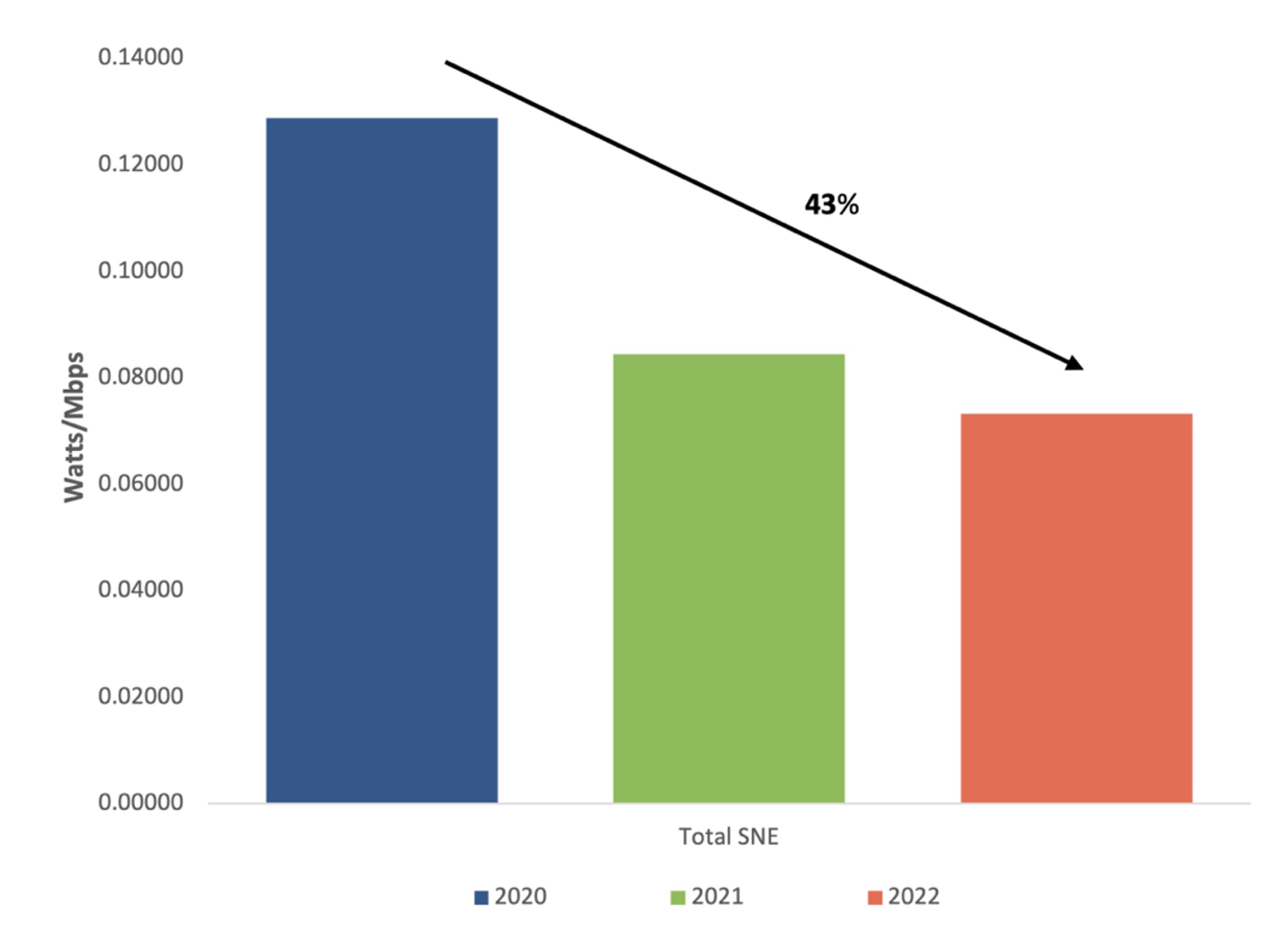 Environmental Impact Is Top of Mind
It feels as if climate change is on everyone's mind these days, as the world experiences record heat waves, devastating wildfires and extreme weather patterns. The sense of urgency to reduce our environmental impact increases every day. CableLabs is proud to have led the technical efforts on these voluntary agreements since the beginning more than 10 years ago, and we're only gaining momentum. The success of these voluntary agreements is a great example of how every little bit of savings can add up and make a big difference.
Learn more about the voluntary agreements! We invite you to attend a special session in the Innovation in Tech Policy track — entitled "Innovation in Energy Efficiency Policy" — on October 18 at SCTE® Cable-Tec Expo® in Denver. Also, visit the NEW Sustainability and Circularity Pavilion while at Expo!
You can read more about energy efficiency on our blog and learn more about the voluntary agreements for the U.S. and Canada.